Security
Submitted by Howie Fenton
June 11th, 2013
Written by Howard Fenton
Senior Technology Consultant, NAPL
If you listen to the experts in the industry, many of them are talking about mobile communication strategies as the most important growth opportunity. The reason is the growth of smart phones which are becoming a necessity in business today. There are different approaches to offering mobile services, some are direct such as SMS texting services, and some are indirect and tie a printed piece to mobile solution. The first print technology to bridge the gap was QR codes. But some are starting to say that NFC or "near field communication" might have greater potential than QR codes.
QR codes are two dimensional codes that can be printed on posters or direct mail pieces, and when photographed with a smart phone, launch a specific action such as transferring to a mobile landing page, inserting information into the smart phone's contact list, or mapping out a route to the nearest retail store.
NFC can also launch actions but it's done in a different way. They use short range wireless technology to transfer information between the chip and the device. Unlike the QR code however, all that's required is a touch between the smart phone and the NFC transmitter. That means that instead of scanning a QR code that is printed, NFC communication requires NFC chips. It can be used to make a payment like a credit card or transfer information or pictures from one cell phone to another.
Security Issues of NFC
Like any technology, the acceptance is tied to the availability of equipment. One of the reasons why QR codes became popular before NFC is because Apple, the maker of the iPhone, has not embraced NFC. The reason according to many stories is that Apple is concerned about security issues, such as skimming. But the rumor, based on patent filings, is that Apple is interested in embracing NFC with the newer, more advanced security system.
Some are saying that Apple is working on an NFC solution that goes beyond a simple transfer of limited information to a strategy that includes biometric security in which your iPhone would become a new way to prove your identity and offer electronic commerce options, a strategy called a digital wallet . There are some reports of developmental delays at Apple but the concept of the digital wallet is already in beta testing.
But even if Apple supports NFC and creates a digital wallet application, that does not mean that QR codes will go away. Both can coexist and each may have its own unique advantage. QR codes are fast and free while NFC is not. The bigger question, however, is how are you bridging the gap between print and mobile marketing?
Interested in similar topics? You may want to check out:
_____
Howie Fenton is a consultant and business advisor at NAPL as well as a paid contributor to this blog. Howie advises commercial printers and in-plants on benchmarking performance against industry leaders, increasing productivity, and adding digital and value services through customer research. For more information click here.
Submitted by Fred Ramsey
March 14th, 2013
Written by Fred Ramsey
Worldwide Marketing Product Manager, Xerox Corporation
Do you know the significance of today? If you were wearing your mathematical cap this morning when glancing at your mobile device or calendar, perhaps you associated today's date, March 14th (3.14) with Pi Day. Pi, the Greek letter π, is the symbol that is used to represent a constant that is the ratio of a circle's circumference to its diameter. As an irrational number, the digits beyond its decimal point continue infinitely without repetition or pattern.
There are many unique ways to celebrate Pi day; observing the history of pi, baking and eating pies (blueberry is my personal favorite), telling pi jokes, seeing how many digits of pi you can memorize (my son has memorized 27 decimal places)…the list goes on, much like pi itself.
The Xerox Color 550/560 Printer has found its own unique and fun way to celebrate National Pi Day, highlighted by a print application printed on 11"x17" (279.4mm x 431.8mm) paper, complete with more than 500,000 digits of pi, in 0.6 font contained within a 6" x 13" area. We're talking about text that is just 1/100th of an inch high and requires a magnifying glass or loupe to legibly read.
This print sample with its insanely small text illustrates much more than just some fancy magic trick you can whip out during cocktail hour to impress your friends. Think of the real-world usages enabled through the Xerox 550/560, its outstanding image quality with 2,400 x 2,400 dots per inch (DPI) print resolution and the patented Xerox specialty imaging security print technology, such as:
- MicroText (text printed at smaller than 1 point size)
- Correlation marks (printed text that is only visible when superimposed by a 'key' overlay)
- GlossMark text (printed text that isn't visible on straight-on view but becomes visible under inclined illumination)
- FluorescentMark/InfraRed text (printed text that is only visible under UV/black-light or in the dark with an infrared camera)
All of these specialty imaging technologies provide outstanding opportunities for you to provide your customers with applications rich with security features, such as coupons, tickets, ID badges for university students or employees, and invoices.
The ability to print such small text is a good example of the 2,400×2,400 DPI of the Xerox 550/560 in action, offering incredible production capabilities and image quality at a value price. As you can imagine, there are real-world benefits to being able to address the smallest of dot sizes. Greater print resolution and more accurate dot control allows for even print coverage and better density while using less toner. And by using less toner, supplies costs are kept in check. With special polyester EA low melt toner, the 550/560 output fuses to polyester in a chemically bonding way, ensuring outstanding image quality on specialty substrates such as plastic, polyester and more.
What digital print applications do you think are prime examples to effectively utilize specialty imaging and security print technology?

Help us celebrate National Pi Day by responding, as we will be giving away prints of the '500,000 Digits of Pi' print sample complete with Xerox magnifying glasses and mini LED microscopes!
Interested in more topics similar to application ideas, the Xerox Color 550/560, and security printing? You may like:
Submitted by Bill Michael
May 2nd, 2012
Written By Bill Michael
Marketing Analyst
Xerox Corporation
You know them: hearing, sight, touch, smell, taste. At drupa, each of your senses will be put to great use, as you will:
Hear: The excitement of the 1000s of attendees in the print industry having conversations on a variety of topics.
See: Technology and software that represents the future of our industry
Touch: Printed samples with specialty media, innovative finishing, and special toner
Smell: toner, ink and paper in the air as you walk by every vendors stand.
Taste: German cuisine (maybe for the first time) and perhaps a few brands of German beer with some friends and colleagues.
At the Xerox stand (Hall 8b), your senses can best be used by seeing and touching the applications that we'll be showcasing live in our stand, including many Best-of-the-Best winners. These winners include: IOS (Digital and Offset), Mediaware (Digital Packaging), MBA Group Limited (TransPromo), Telemail, S.L. (TransPromo), Easy Print (Photo Publishing), Printshop (Photo Publishing). Three additional winners include:
DG3 Europe Limited
(Best Overall Solution, case study)

The Duke of Edinburgh's Award, the largest youth charity in the UK, wanted to enable their award winners to create and order personalized Achievement Packs online. They approached DG3 Europe Limited, who mapped out an end-to-end solution using FreeFlow Process Manager™ and the iGen4 with a Xerox FreeFlow™ Print Server – resulting in a 637% increase in usage of the achievement pack.

De Budelse
(Digital Packaging, case study)

Recognizing the growing area of digital packaging, De Budelse built FotoChoco.nl to enable orders of personalized boxes of chocolate. Using the iGen4 and FreeFlow Print Server, they were able to sell over 11,000 boxes of chocolate. (your sense of taste!)

CopyCat
(Direct Marketing, case study)

Using the Xerox Color 1000 Press, CopyCat used clear dry ink and personalized cross media to drive new business. The campaign generated a 10% response rate and helped bring in 20 new orders from new customers.
Please stop by Xerox Stand in Hall 8B to see and touch these great applications. We'll find other ways to exercise your other senses!
Submitted by Joel Basa
April 14th, 2011
Written by Natalie Serrato, Technical & Social Marketing at Lytrod Software
Have you seen the new California Driver's licenses? With fraud on the rise more than ever and the high demand for California ID's in particular, the new licenses have more security features than they do person Identification information.
From ID's to parking permits to event ticketing to certification credentials, it's becoming clear that more and more documents need to be protected with multiple security features. Xerox has developed a unique, award-winning technology: FreeFlow VI Specialty Imaging. Lytrod Software's DDC templates make use of this technology by marking digital documents with standard toners and without post processing.
Through this technology, you are able to embed variables into your security features, which add even more protection and personalization to your document. A major factor in the ease of duplication of security sensitive documents is the repetition of the security features on each document. By making each security feature unique to its particular document – it becomes that much harder to duplicate, especially in mass production.
Baseball season is here and for all those die hard sports fans, tickets to these events are a must! With every new season come scalpers with close-but-not-quite tickets ready to be sold to unknowing fans.  Check out the image of the baseball ticket featuring specialty imaging effects to deter fraud:
2-layer Fluorescent Mark effect, which displays one layer of text in natural light and a second layer of "hidden" variable text that is only visible under fluorescent light.
Variable MicroText, a font so small that it can only be read under magnification.
Adding variables and Specialty Imaging to your design is easy, just a few clicks of the mouse, in Lytrod's Proform Designer VDP software. See how easy it is by viewing the video below. Additional videos can be found at  www.youtube.com/lytrodsoftware.
Aside from sporting events, what type of documents do you come across that you feel should be better protected with security features?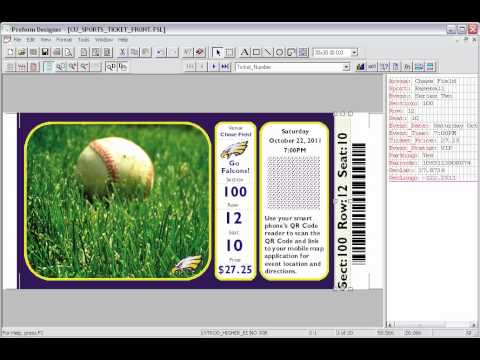 Submitted by Bill Michael
February 1st, 2011
Are you looking for new revenue-generating ideas for your business? Whether it be a targeted 1:1 marketing campaign that generates extraordinary response rates, an automated book production solution resulting in huge profits and massive growth forecast, or how about a transpromo statement that reduces costs while still boosting print volumes? 
Our Premier Partners have shown through the years that you don't need to look any further than the Xerox Best-of-the-Best Contest to see real examples of how companies all around the world are implementing these solutions, and helping to transform the digital print industry along the way!
Exclusively for members of the Xerox Premier Partners Global Network, the Best-of-the-Best Contest recognizes this collection of companies for the innovative work they continually produce that delights their customers and drives real business results.
And now, *drum roll please!* it is with great pleasure that we announce the opening of this year's Xerox Best-of-the-Best Contest!
Premier Partners, submit your best digital work today in any of the following categories: 
-Books
-Collateral (Web-to-Print)
-Digital and Offset
-Digital Packaging
-Direct Marketing
-Photo Publishing
-TransPromo
We also have some exciting new additions to the program this year, including our Printers' Choice Award – allowing you to vote amongst the work of your peers and have a say in who really is the best of the best!
In addition, the Digital Trailblazer Award will be given to the work best demonstrating true innovation through emerging technologies – such as Clear Dry Ink, Specialty Imaging including GlossMark® Text and MicroText Font, QR codes or Social Media integration! 
But you'll want to hurry; this year's Best-of-the-Best Contest closes April 1, 2011! Enter Today!
Submitted by Lindsay Lamb
October 4th, 2010
As mobile devices are becoming more relevant in today's society; people are finding the need to use their phone more than their computer. And there is no question that technology around mobile phones is excelling. The mobile professional is carrying their phone around; checking email and looking to share documents and information easily— So the whole idea behind Mobile Print is to be able to print from your mobile device.
How It Works
All you have to do is send an email to a central email address that goes to a server on a corporate company's infrastructure, from which a confirmation email is sent back. This confirmation email contains several random digits. The user can then go to any Mobile Print enabled printer, type their code in, and receive their printed document.
Mobile Print Advantages
There are three main advantages to Mobile Print technology:
1) It's simple. If you can send an e-mail, you can print. It's location independent and you don't need to download applications or drivers to the phone. You can also see a useful thumbnail preview on the MFP user interface.

2) It's convenient. You can print from any e-mail enabled device a variety of documents from jpegs, to PDFs and other office documents. Users can apply printer settings at the MFP as if they were printing from their desktop, and can have accurate conversion of their Microsoft Office documents without the concern of losing format data.

3) It's secure. You are the one at the machine typing in your unique code related to your e-mail, documents, and attachments.

Mobile Print in Action
At Graph Expo we are demonstrating this technology. Visitors in our booth can get a caricature done by a professional artist drawing on a digital tablet. Once complete, their image is e-mailed to a mobile server. A confirmation e-mail with the code was sent back, which we then type into a Xerox mobile print enabled ColorQube 9203. Then wha-la! Out comes a printed version of their cartoon face!
There are many business uses for this kind of technology…
How would you incorporate mobile print technology into your production environment?
Submitted by David Roome
August 11th, 2010
When private data is breached for malicious intent, both a loss of reputation and revenue is at stake. There is no doubt that information is an asset that brings immense value to an organization and its protection is critical. At Xerox, the FreeFlow Print Server support and development teams are very sensitive to the concerns customers express about protecting their private data.
So, is private information printed on a Xerox Digital Press completely safe and protected? Absolutely, as long as the proper decisions are made when incorporating devices onto your network.
Some of the major considerations when planning for securing private information printed on Xerox printers with the FreeFlow Print Server is the physical location of the digital printer, who has access (remote and local), and the workflows required to facilitate the printing of private information. The FreeFlow Print Server software can be configured to close all application ports that are not required by a customer printing workflow. Those application ports left open to support workflow can be restricted to trusted remote hosts and users defined by the customer. When you restrict the workflow access in combination with strong encryption methods for those that can access the FreeFlow Print Server system, it makes for a strong level of confidence that private information is protected against malicious intent.
The decision to incorporate printer devices— that receive private information on our intra-network— is extremely important to security conscience customers, and especially those that require compliancy to such standards as PCI-DSS (Payment Card Industry Data Security Standard), HIPAA (The Health Insurance Portability and Accountability Act), or US Government standards. The FreeFlow Print Server's software incorporates a very rich set of security features with custom controls to lock down network and local user access, and prevent access to private information printed on Xerox printer products. Xerox has successfully gained the confidence of many security conscience customers in the financial services, health services, universities, and government agencies.
Because the management of network and device security can be very complex, it requires strong knowledge of computing and network technologies, and can cause anxiety for those responsible for managing private information that must be protected at all costs; the FreeFlow Print Server team is committed to making our security conscience customer comfortable. Our development teams and highly skilled technical professions focus on security features and customer concerns on a daily basis.
Xerox realizes that the protection of private data is in the best interest of our customers, and our reputation as a world class printing solutions company. We are excited about working with our customers to protect their private information as an important asset, because private data should be kept private.
So what do you think? Are you seeing new security challenges out there today that still require our development teams to focus on? Are security concerns impacting how you do business today? We would love to hear from you!